The ultimate guide to beginner's CRM systems
What can I achieve with an optimiser CRM system?
What are the benefits of Optimiser's CRM compared to other market leaders?
CRM is an effective business growth tool for any business in any industry. Often considered an IT essential, Customer Relationship Management (CRM) encompases every touchpoint a customer may have with your company.


---
Beginner's CRM Systems
CRM as you might be familiar with it was invented in the 1980's, and its primary function was to identify the success of marketing campaigns with particular audience segments using statistics. Fast forward 42 years, and CRM companies provide systems that have found purpose right the way across the business scope: carrying out tasks you could never hope to do without them.
Imagine for a moment, if you were to go to your sales reps and ask them to remember the contact information, purchasing history and every interaction a single customer has had with your business, they'd think you were crazy. Now, imagine asking them to do the same, but for every customer your business has ever had.
That is why CRM data systems are so essential: they collect key information and automate processes that save time, and ultimately allow you to operate your business based on data-driven, customer relationship feedback. As a CRM provider, Optimiser is constantly looking for ways to innovate the relationship management process, and so our regular feature updates keep CRM-using businesses at the forefront of innovation.

---
CRM applications are designed to combat some of the most general problems businesses encounter when trying to develop and maintain excellent relationships with their customers, some of which businesses may not even realise they have been struggling with. For example:
Multiple customer management tool subscriptions

Higher outgoing costs
Losing time moving between tabs
Sharing data between systems using unnecessary third parties or downloads

Manual address book keeping resulting in errors
Customer data is spread out into multiple profiles

Customer queries take longer to solve
Data has to be combined manually for analysis
As the name suggests, CRM software will enhance the way you manage your customer relationships. In-depth data collection helps you better understand their preferences, and cater your working methods to match this. You will be able to spot trends and make more accurate forecasts, preparing you for fluctuations in your industry. The issues presented by managing customer relationships across multiple platforms are ameliorated: on a very basic level, your singular, more organised database for contacts and leads will allow you to work faster and more efficiently, find relevant information faster, and create comprehensive lists. These individual key data points add up to give an accurate, "bigger picture" snapshot of how well your onboarding and relationship management is going, and make data-led changes.
Enhance the way you manage your customer relationships
Allow you to work faster and more efficiently
Excellence for great value
Caters to the unique needs of your business
"You will be able to spot trends and make more accurate forecasts, preparing you for fluctuations in your industry."
What can I achieve with an Optimiser CRM system?
Primarily, Optimiser's CRM is a suite of tools that helps manage relationships: both with current and prospective customers. Current customers are catered to with complex contacts and accounts modules. These may not sound incredibly futuristic, but in fact CRM communications tools now make digital address books seem as outdated as floppy disks.
Based on the cloud, it can:
Hold an infinite number of individual contacts
Each contact has its own wealth of historic information
Record everything from communication frequency to account value
Allow you to quickly sort by and find unique audience segments from your database, according to custom search criteria
Due to Optimiser's CRM integrations with the other tool suites on offer, all this valuable contact data is transferred via the cloud in real time to be used across the rest of your business scope and CRM system: feeding directly into the reports module (another essential function of any good CRM toolkit). Reports are able to feed back on a custom data set so you can get instant, accurate and live reports in easy-to-read chart and graph format. While having the benefit of saving you time with large data sets and complicated spreadsheets, this also allows you to create up-to-date KPIs for your people that change as your business metrics do.
"Satisfaction is a rating. Loyalty is a brand."
The final key benefit from Optimiser's CRM is the handling of prospective customers or "leads". Pipeline tools are the innovative way we help improve your sales funnel. CRM lead management tracks the progression of your prospects from discovery to onboarding. Pipelines help you:
Keep track of leads throughout your funnel
Allow your teams to collaborate easily on accounts, and
Find out which techniques work best for a better strategy going forward.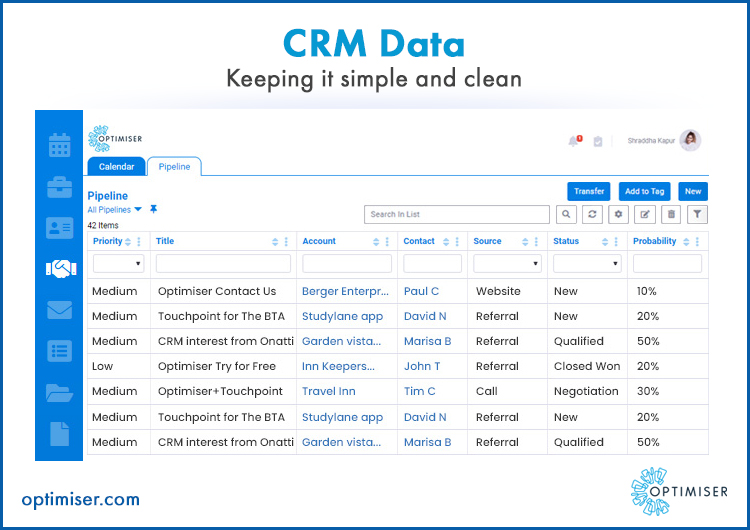 What are the benefits of Optimiser's CRM compared to other market leaders?
Optimiser is dedicated to being an industry leader in excellence for great value, providing powerful and vital business tools while never compromising for a higher, unaffordable price point. When compared to other leading CRM providers, Optimiser's software provision is leagues ahead: driving the market into a futuristic place where companies can expect a price point customised to their specifications. Customers need only pay for the tool suites that are relevant to their business, saving costs and allowing for monthly additions or changes depending on your specific needs.

Experiment with Optimiser's CRM, email marketing, and all other integrated features for a free 30-day trial, to find out just how much it can improve your business.

Secondly, because Optimiser's key CRM tools are based on the cloud, you can be assured that your technology will not go out of date, as updates are installed automatically on the software provider's end. It also means that, no matter what happens to your business whether it grows or changes direction, your CRM tools are flexible enough to meet your new needs. Optimiser's integration features mean that other essential tools for your business can be combined with your basic CRM to gain an even better, more thorough view of where your business stands. Optimiser offers solutions for all business types, meaning your toolkit will cater to the unique needs of your business, from global enterprises to not-for-profits.
Optimiser is a comprehensive CRM software company, providing businesses a customisable solution to their personal goals for sales, productivity, and growth. Powerful integrated modules include lead management software, a B2B sales toolkit, automated marketing suite and more for sale under a single subscription. Try Optimiser's CRM software demo with access to the full Enterprise Licence FREE for 30 days, and find out how you can skyrocket productivity in just one month!
1. What is CRM?
CRM is a style of software designed to help businesses maintain excellent brand relationships with their customers and potential customers. Typically involving the collection and analysis of data, it provides businesses with statistically-sound methods of developing personal and loyal relationships with clients.
2. How does CRM work?
Every CRM experience will run a little differently dependent on the provider, but they all have a few key features in common:
Collect data about Contacts and Accounts
Help organise the customer-facing teams and projects internally
Analyse customer data
Streamline the lead journey and customer retention processes
3. What is CRM software used for?
CRM software has a number of uses for businesses looking to streamline the way they handle their customer-facing brand presence. Develop better strategies, save time on manual analyses, grow your business and understand your audience for increased sales.
4. How much does CRM software cost?
There are several CRM options that can be tailored to suit your business needs. Optimiser's CRM is a standard for every user licence, meaning your CRM tools come at a singular subscription cost per user account. Your CRM capacity expands to add additional integrated tool suites as needed.
5. Do I need CRM software?
Any CRM consultant will advise that no matter your business model, you should consider investing in a CRM platform. From CRM healthcare and hospitals to CRM for insurance agents, there is no equivalent manual option to optimise the way you interact with customers and leads, particularly in heavily customer-facing industries.