What is Lead Nurturing?
The process of developing and augmenting relationships with consumers at every stage of the sales funnel is known as lead nurturing. As per research, almost 80 percent of leads do not end up purchasing after visiting the website. The remaining percentage is not prepared to buy the product/ service.
That is why it is essential to nurture leads. Without the information on who to nurture, the company is likely to waste its resources on a consumer who will not purchase anything.

However, with a lead scoring system in place, they will rank leads using the software. CRM like Optimiser provides an excellent solution for lead scoring and management. The CRM is integrative and scalable. You can analyse the customer journey through the sales funnel and ensure a leak-free journey. Fostering the consumer's interest in the product will allow you to build trust, increase brand awareness and improve communication with the prospects until they are convinced to purchase.
It is essential to ensure that prospects are not bombarded with messages and spam emails that are likely to annoy them. Companies can use a lead nurturing program to send automated emails and detail the leads to progress through the sales cycle.
Must-try tips for nurturing leads
1. Know your leads
Knowing who your leads are is an essential part of a business. The question that arises first and foremost is who are you marketing to? You cannot lead them through the funnel if you are unaware of their likes and dislikes, challenges and interests, etc.
Creating a buyer's persona is the most ideal method to know your customers. It is a hypothetical yet detailed profile of your potential customers. By conducting surveys, you can get insights into the consumers interested in your product.
2. Lead lifecycle stages
Creating lead lifecycle stages can make your life easy. The first stage set by most companies is "unknown lead", someone who has been to your website and your marketing automation is tracking their journey. However, the lead is yet to identify themselves by giving out their contact data.
With these stages in place, your teams will be able to recognise where your lead is in the buyer's journey.
3. Make your leads feel valued
Send them personalised messages and interactions. Personalised emails can have the recipients' names in the subject line or salutation. Any other data stored within the CRM system can be used to access further data to customise the interactions. Offers can be sent to them based on their geographical area, product interests, buying patterns etc. Every message you send will forge a more trusting bond between the buyer and the brand.
4. Inbound content
To nurture your leads, you can leverage the content created to align them in the lead lifecycle. In the initial stages, this content can educate the leads about the latest trends and practices in the market. This content is in no way designed to persuade consumers into buying; its intent is to teach them and gain their trust.
Begin to solve the day-to-day problems of your leads. It will be beneficial for your business and improve your brand reputation.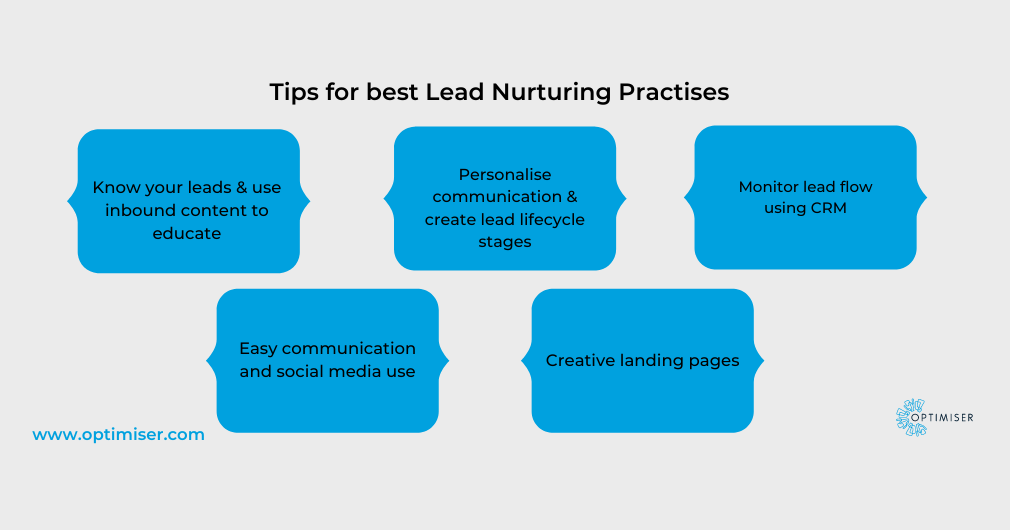 5. Monitor leads flow
When monitoring the flow of leads through the funnel, you can track how fast or slow the leads move from one stage to another. It will give you an opportunity to any customer journey leaks and pinpoint issues that need to be resolved so that the lead moves through the funnel smoothly.
If your leads are piling up at one stage, you will need to address the issue immediately and change course as per convenience. For every solid lead strategy, you will be required to ensure that the leads move smoothly from one point to another.
6. Easy to contact
When a lead is interested in a product/ service, nothing will put them off more than a company that is hard to contact.
Ensure that your customer service is easy to reach and available to help. Leverage multiple channels so that the leads can reach out to you from whichever platform they feel comfortable with.
Provide services like appointment booking and rescheduling, monitor your social media to collect polls from the audience, analyse the leads behaviour patterns, and leverage live chat that is available on websites.
7. Social media advertising
One of the easiest and cheapest ways to get leads is social media. If social media is implemented well, leads will be interested in clicking the ads and providing you with the information you need. Based on specific demographics, you will be targeting customers who expressed interest in similar products.
8. Social Media contest and offers
Engage your leads on social media and make them familiar with your brand. Once they follow you on social media, keep their attention in place with contests to participate in and promotional offers.
9. Landing pages
Boring landing pages will discourage website visitors from clicking on the CTA (Call to action) button. A strong landing page plays a significant role in nurturing leads and persuading them to try your product.
SUMMARY
The trick is to be consistent with communication and not annoy your leads in the process. If they are well aware of your product before purchase, they will consider buying it.