Why should I think about email marketing tools?
What should my email marketing software allow me to do?
Six uses of email marketing software
How your business benefits from these capabilities
---
Why should I think about email marketing tools?
Email marketing in the 21st Century may seem like the less cool older cousin of social media marketing, but it can be a remarkably effective way to reach the audience you need. While social media casts a larger net and emails can often go ignored in a jammed inbox, email marketing allows you to personalise your communications in a way that's impossible to achieve using any other means.
Fulfilling aims for both customer acquisition and retention, marketers can expect to connect with their consumers, build their brand, and increase sales, all from a single automatable tool!
In 2018, email marketing was identified as one of the most effective digital marketing techniques according to Smart Insights, and marketers themselves felt that mail campaigns were among their most successful media channels. In fact, according to the DMA (Direct Marketing Association), email marketing for small businesses can be one of their most cost-effective marketing strategies in terms of ROI: for every $1 spent, there was an average return of $38. The reasons for this are as follows:
The software is easy to understand and manage
It is time saving
It gives you total control
Can be enhanced using automations and feedback reports
Allows your business to create strong, trusting relationships with customers
---
What should my email marketing software allow me to do?
An email marketing tool provider should empower you to design dynamic mailers in the form of newsletters and campaigns. Often, the provider will offer this feature in a clean and simple interface, with no HTML knowledge required to customise every element of the email: from subject line to embedded visual supplements.
You should also be able to identify target groups of consumers from your mail list according to custom attributes, and section them as your receipt group from within the email tool.
Automations are a vital and very useful part of email marketing. Any good email marketing tool will have scheduling capabilities that allow you to identify the times at which your audience is most responsive to emails, and to schedule an email calendar that corresponds with this data.
Finally, it is essential that your email software has the capacity to monitor, collect and analyse send data such as open rate, clicks, and revenue generated. These reports enable you to close loops and drop-off points, and to optimise future mailers to see an even higher ROI.
---
Six uses of email marketing software
Email design: Design any number of intuitive mailers from pre-set templates and customisable formats. Easily add branding, visual elements and personalisations without any knowledge of HTML
Segment building: Identify and create customer segments based on custom criteria integrated from your other CRM modules: communication records, purchase history, and interests
On-platform sends: Schedule and send your mailers from your Optimiser platform, reducing time spent navigating between platforms, carrying across information and limiting data shared with third party providers
Generating reports: Every mailer comes with live analytics to display your successes in an easy-to-understand format. Gain feedback on your bounce rate, opens and CTR to understand whether your email hit the mark
Understanding analytics: Integrated reports module helps analyse historic mailer data to provide feedback on what your most successful mail features, format and subject lines were, and highlight where improvements should be implemented
Optimising mailers: A combination of analytics, customisable templates and the Optimiser team's expert knowledge ensure you derive the most value from your email marketing tool

Optimiser's email marketing tool has all that's required for a powerful campaign.

---
Optimiser's Email Marketing
Optimiser's Email Marketing tool is part of the comprehensive Marketing Suite. Integrated with every other suite that Optimiser provides, the email tool offers a wider range of benefits than simply marketing:
Powerful automations allow tailored email messaging to customer segments integrated from the CRM module

Schedule and send repeat emails like follow-ups, routine pipeline communications and reminders: saving time and financial resources on manual repetitive tasks

Email result metrics like bounce rate, CTR and conversions allow you to add further insight into your accounts list

Use pipeline insights to track and manage your use of emails through the customer journey

Integrated Sales Suite helps unite your marketing and sales efforts into one
Easy drag and drop features to create customised campaigns

---
Campaign analytics to help make sound decisions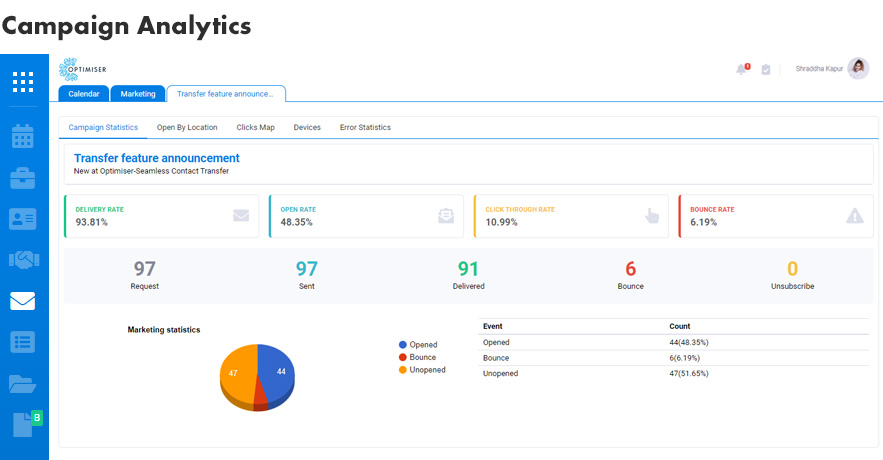 Sounds interesting? Let an Optimiser expert walk you through our Marketing Suite

---
How your business benefits from these capabilities
By utilising all of these capabilities, your business will be able to generate email marketing strategies that are:
Innovative
Engaging
Device-friendly
Personalised
Segmented
Successful in ROI and brand awareness
Meet KPIs faster and more accurately: Your new marketing tool should increase promotional awareness of your marketing plan. No matter what your intention: whether you are aiming to gain more new customers, promote an existing feature, or simply increase the traffic flow to a particular page of your website; intuitive mail design will allow you to funnel consumers in the intended direction.
Get better engagement and a higher ROI: A well-defined audience segment using an integrated contacts list also ensures your mailers are personalised in bulk: saving time while provably increasing engagement rates, without the leg work of manual email marketing. The more relevant your design and content are to your audience, the better results you will see in your campaign analytics.
"Activate your fans, don't just collect them like baseball cards,"
Keep and create fans of your brand: The better you manage to communicate your brand to consumers, the better you are able to build relationships across the full business scope. Improved marketing activities lead to more agreeable deals; saving time on building relationships for your sales team, and increasing interest in your other marketing activities.
Optimiser is a comprehensive CRM software company, providing businesses a customisable solution to their personal goals for sales, productivity, and growth. Powerful integrated modules include lead management software, a B2B sales toolkit, automated marketing suite and more for sale under a single subscription. Try Optimiser's CRM software demo with access to the full Enterprise Licence FREE for 30 days, and find out how you can skyrocket productivity in just one month!