Customer satisfaction is the factor behind the success of any organisation. Regardless of the industry one operates in, keeping the clients happy is a surefire way to build a good brand reputation in the market.
To ensure that the relationship between the customers and the organisation is always fruitful, companies can make use of CRM software. This software improves existing relationships and offers insights into the current strategies to evolve them.
Every organisation has its unique needs that need to be fulfilled when it comes to using CRM software to stay ahead of its competitors. To be able to do that, you will need to interact with data on a daily basis. Customer behaviours are unpredictable but with the help of data, we can stay ahead of the curve and try to meet the expectations of the customers as they change.
Optimiser CRM comes with a significant feature that is, Dashboard. By customising it, you can take a quick look at how your organisation is performing. Highlight your most important Key Performance Indicators (KPIs) and when you are making a decision, refer to this data to ensure that your decision is effective and will benefit the organisation in the long run.

To put it in short, the best CRM dashboard consists of information that is present in the CRM in a manner that is interactive and dynamic. It can improve how you create your customer strategies and communication. Meant for data analytics and business intelligence, Dashboard is a tool that can provide organisations with comprehensive reports complete with charts and graphs that are insightful and easy to understand.
Moreover, the Dashboard tool offers insight into the performance of the organisation and other activities with the help of features and functionalities that assist it.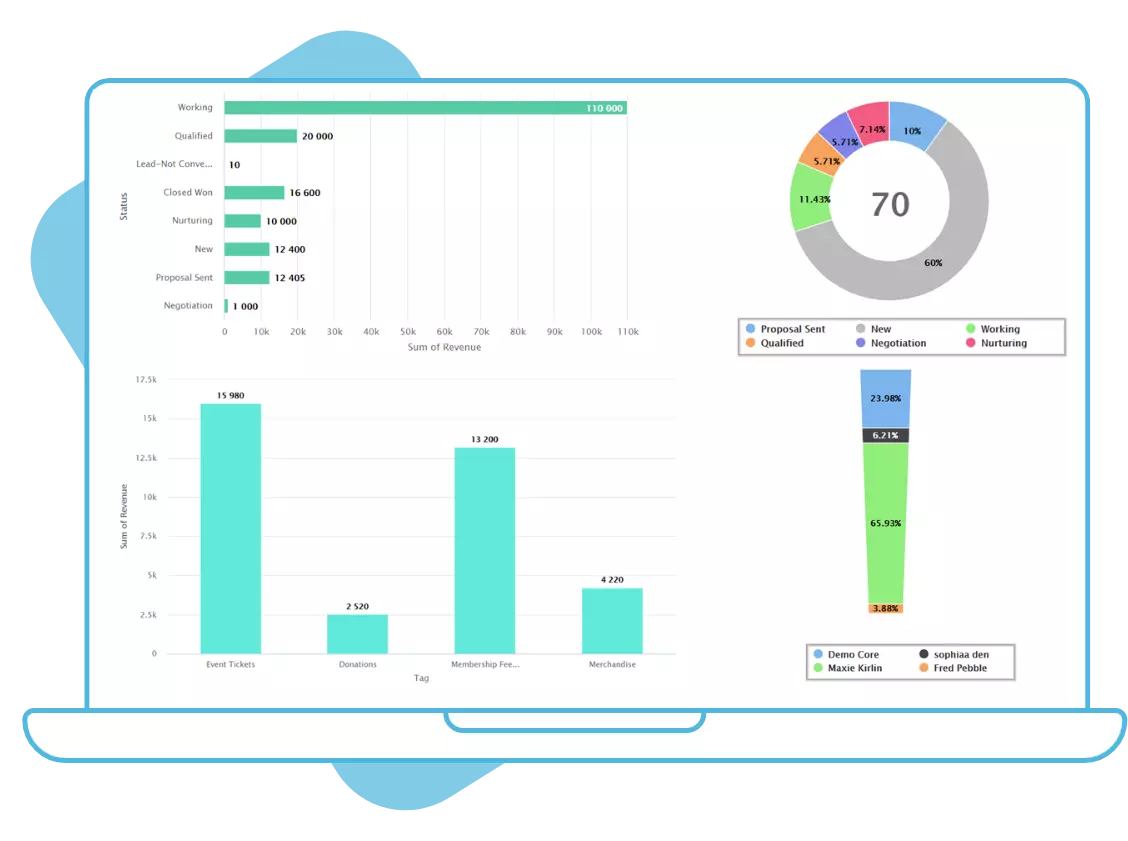 Also Read: Top 10 CRM Features Every Small Business Need
Who makes use of the CRM Dashboard?
CRM dashboards are used by a number of teams within an organisation. It is not just for the CEO to look into the performance of the organisation and make decisions, it is also useful for sales and marketing team members to analyse the performance of sales activities and marketing campaigns respectively.
Managers

: To look into the performance of individual employees, teams, and organisations, Managers find the dashboard to be a useful tool. All the opportunities, goals, activities and performances are grouped in one place.
Account Executives

: Task management features of Optimiser CRM can assist the reps in managing the lifecycle of a lead, tracking action items and figuring out which leads will need a follow-up appointment.
Sales Development

: For the tasks of lead generation and prospecting, a CRM dashboard can keep your workflow consistent and maximise it. You will be achieving your goals for the day as well as keeping track of the sales activities within your organisation.
CEOs

: Without a doubt, the CEO of any organisation will need a CRM dashboard for the decision-making process. For the times when they are in a hurry and cannot analyse the data as a whole, they can take a quick glance at the dashboard that offers a view of the data in a consolidated manner.
Marketing

: The marketing team can make use of the CRM dashboard to view how their campaigns are performing, how many people have engaged with their emails, CTR, bounce rate, open rates, as well as which content has struck a chord with the audience and even where the audience is from and what devices they have been using the open the emails.

How CRM dashboard work
Dashboard offers a holistic view of entire business including, the sales and marketing-related activities, revenue performance and teams. It further makes easier to manage the different aspects of an organisation and evaluate them.
In a single view, you can look at the sales reps' activities, revenue metrics and other important KPIs. Displaying a wide range of statistics, Dashboard is easily one of the most useful tools for sales, marketing and other business-related activities.
Summary
CRM Dashboards are useful for a handful of people in any organisation for n number of tasks. It is effective, simple and efficient. By customising your CRM dashboard, you will be able to get a quick view into how your company is performing, what are the opportunities you can leverage and how you can do it all better.