The synchronisation between the sales and the marketing teams is exceptionally vital to the growth of any organisation. It gives a competitive edge to a company in the market and ensures a better quality of leads, better customer retention, and a shared strategy for communication to deliver revenue growth.
Sought by many organisations, only a few can achieve this goal. It is ambitious, and it is also very effective once earned. Optimiser CRM offers sales and marketing teams an integrated suite to save resources and increase productivity with AI-enabled automation. You can unite the sales and marketing data by optimising the customer journey and sharing it effortlessly between departments.

Insightful Stats to Know About Sales and Marketing Alignment
Advantages and Opportunities in Smarketing
As per research done by LinkedIn in 2020 on collaboration between sales and marketing, 87% of the sales and marketing leaders said that it is critical for business growth
Another research on top-performing sales agents done by LinkedIn in 2020 revealed that almost 94% believed that the marketing leads they have received could be classified as either 'good' or 'excellent'
Forrester 2019 gathered that the marketing and sales teams that take an ABM approach are 6% more likely to exceed the goals they have set for the revenue compared to those teams that are not as advanced in ABM
Tactics for Smarketing
LinkedIn report 2020 mentioned that about 86 percent of marketing professionals reported that they spend their efforts on accounts that the sales team is targeting, as per a LinkedIn report in 2020
Forrester's 2019 study uncovered that 62% of the marketers noticed a positive impact after adopting the ABM approach
ABM improved customer lifetime values as per 80% of the marketers. In this TOPO 2019 study, another 86% stated that it improves the win rates
HubSpot 2020 found that 85 percent of the marketers with SLA think that their marketing strategies are effective
A standard measurement of success for content marketing programs is total sales as per HubSpot 2020 study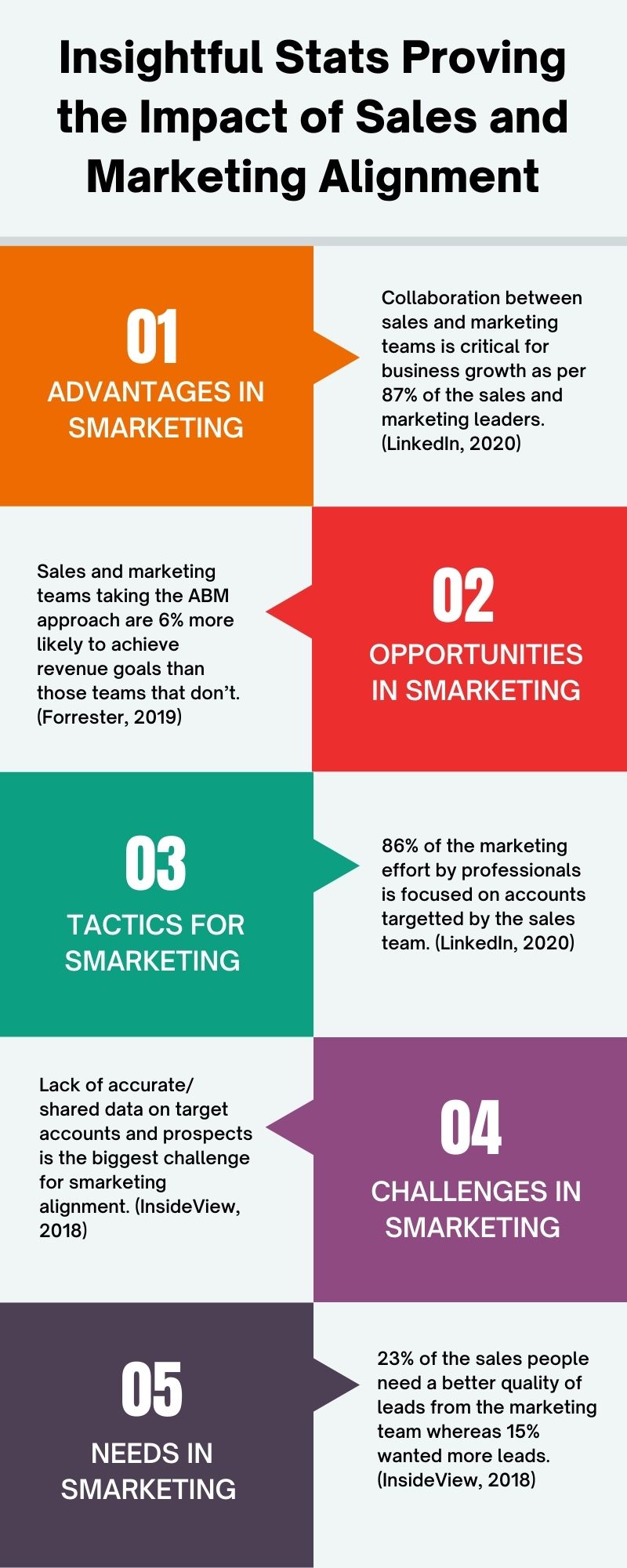 The Challenges and Needs of Smarketing
In a LinkedIn survey done in 2020, about 60% of global respondents believed that the non-alignment between sales and the marketing departments could damage the financial performance of an organisation
LinkedIn 2020 study discovered that several disconnects across culture, content, process and strategy are pointed out by 90 percent of sales and marketing professionals
HubSpot surveyed that only 7 percent of sales agents stated that the leads from the marketing departments are of high quality
As per 28 percent of salespeople, marketing is the best source of leads, as per HubSpot
'Lack of accurate/ shared data on target accounts and prospects' was the biggest challenge faced by 42% of the sales and marketing people when they focused on aligning the sales and the marketing departments as per a study conducted by InsideView in 2018
About 23 percent of the salespeople stated that the most significant need from the marketing department is the improved quality of leads. As per InsideView 2018, 15% of salespeople said that their greatest need from marketers is getting more leads
InsideView 2018 discovered that consistent use of systems is the top need of 30% of the marketers from the sales teams, whereas 22% said it was a better lead follow-up
Marketing and Sales Alignment: A Summary
While marketing delivers high-quality leads, sales will be better equipped to motivate the leads to convert into paying customers. This will increase the ROI of the departments.
As companies are beginning to go wholly or nearly virtual, the alignment of the sales and marketing teams can be crucial for building your brand name and reputation.